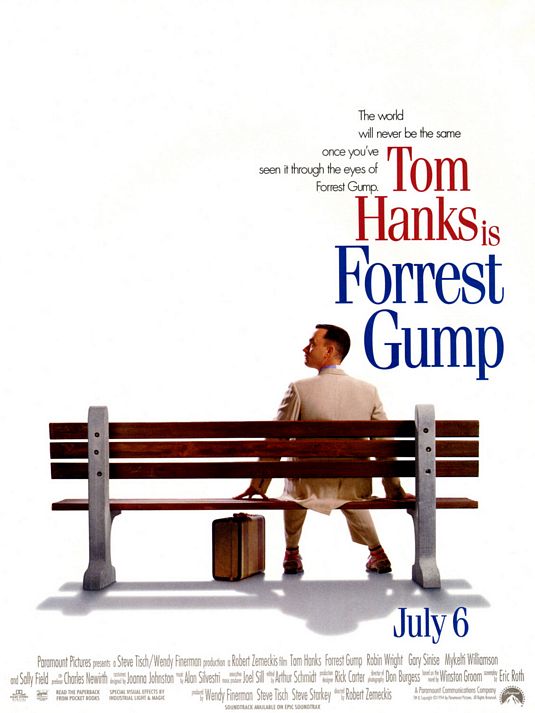 Forrest Gump (1994; Paramount Pictures)
Director: Robert Zemeckis
Writers: Eric Roth (Screenplay); Winston Groom (Novel)
Starring: Tom Hanks, Gary Sinise, Sally Field
Winston Groom's tale of a mentally-disabled man who directly experienced almost every world-changing event in the later half of the 20th Century is a truly charming and heartfelt examination of spirit and love. Widely considered one of the greatest films of all time, ranking #14 on IMDB's top 250 at the time of this post, number 76 on the American Film Institute's list of the 100 greatest American films of all time, and cleaning up in the 1995 Academy Awards with an astounding six wins, Forrest Gump is one of the essentials. There are a few movies that I would recommend everyone see, and this is definitely one of them.
Tom Hanks plays Forrest Gump, a chatty man who patiently waits at a Savannah, GA bus stop just casually talking with his various benchmates. He tells them tales of the things he's done, the people he has met and the places he has been not knowing just how much of an impact he had on the lives of so many people. Cutting back and forth from the story's present time and flashbacks to various key moments in Forrest's life, we see him meet presidents, fight in Vietnam, chat up John Lennon at a Black Panther Party meeting, and ultimately start a hugely-successful business, and he did all of this never knowing how great his achievements really were.
Along the way, as we explore Gump's life, we meet a few people who will shape him. His mother (Field) helps to ensure he lives as normal a life as possible and we watch as his childhood friend Jenny (Robin Wright) goes from a pretty tomboy to a broken and abused soul. Gump's lieutenant during his tour in Vietnam, Dan Taylor, leaves the war a crippled and angry man, embittered towards the so-called American dream. We see Lieutenant Dan befriend the devoted Gump, despite occasional periods of frustration. Then there is Bubba, a fellow recruit who is also slow, who becomes the titular protagonist's best friend during his time in the Army, ultimately planting the seed of starting a hugely-successful shrimping business.
Tom Hanks deservedly netted an Oscar for his performance of the kindhearted Gump. Filled with shining moments of greatness, his performance is famously endearing. The performances from the supporting cast including greats like Sally Field and Gary Sinise are stunning as well, and act as a great contrast to the unwitting Gump, reflecting the grievances and the disenfranchisement of the late 60's and early 70's. Mykelti Williamson plays Bubba Blue with famous wit and a warmth that nearly matches Hank's own Oscar-winning role, and every moment with the two on screen is either very funny, or extremely emotional.
Forrest Gump literally has everything. It is a comedy, a drama, a war story, a romance, a period piece and a smart examination of the ideals and the passions that erupted during the Vietnam War era. Despite literally trying to be everything, the film never misses a beat, always hitting just the right notes and crafting a very big, but cohesive story. Ever since Citizen Kane there have been countless movies that have tried to weave a complex and intricate story around a single character through the years, but few have done it better than Forrest Gump.